Welcome
Welcome to the T&M Kiinteistöt, Vuosaari Service Centre website.
Vuosaari Service Center, opening in autumn 2008, will provide for it's clients a large scale of services such as maintenance and repairs of the harbour vehicles and machines, property maintenance, maintenance and repairs of transportation vehicles and office and training rooms.
Service Centre for Heavy Vehicles and Machines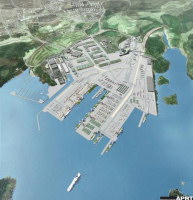 The other significant part of the Vuosaari harbour centre is the business area next to the harbour.
Transportation and logistics areas, an entrance centre and service and maintenance areas will be built for the companies and activities linked to the harbour.
Intranet Login
Bulletin Board
29.6.2007
New website of T&M kiinteistöt is released.
If you find faults in site, please send a message:
info@akusolvers.fi