Construction Work
The construction work schedule will be as follows: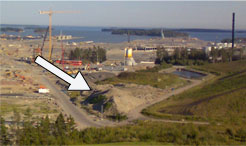 The lease agreement with the port authority is signed.
Space needs and requirements survey of leaseholders in May, 2007.
Lease agreements with leaseholders during summer 2007.
Specification of the project plan by the end of August, 2007.
Business premises plans of the leaseholders by the end of August, 2007.
Construction plans in September, 2007.
Building permission in October, 2007.
Start the construction in December 2007 - January 2008.
Opening of the premises in autumn, 2008.
Intranet Login
Bulletin Board
29.6.2007
New website of T&M kiinteistöt is released.
If you find faults in site, please send a message:
info@akusolvers.fi